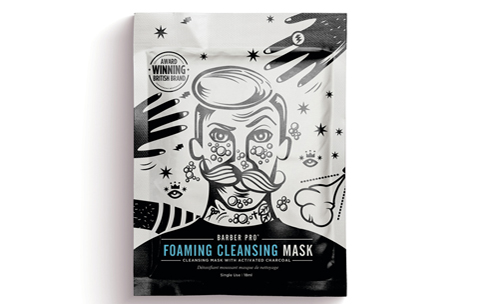 Rensende forbehandling til BARBER PRO ansigtsmasker, perfect til acne
BARBER PRO Foaming Cleansing Mask er en selvskummende maske som skaber en mikro massage på ansigtshuden og renser for urenheder, går dybt i porene og fjerner acne. Benyttes som en forbehandling til en af Barber PRO special ansigtsmasker. Ved hjælp af aktiveret trækul og et rigt AHA-kompleks udvundet af lime, citron, æble, appelsin og grapefrugt er denne detoxificerende maske også egnet til hud med acne problemer. Masken er formet til ansigtets nedre dele og tilpasset alle hudtyper.
BARBER PRO Foaming Cleansing Mask er fyldt med naturlige ingredienser som Activated Charcoal Extract, Extracts of Lime, Lemon, Apple, Orange and Grapefruit, Ginseng Root, Chamomile, Pomegranate, Witch Hazel, Tomato, Lavender, Rose Water, Tea Tree.
Uden parabener, lanolin, mineralolier og petroleum. Dermatologisk testet.
Vejledning:
Fjern masken fra emballagen, fold ud og placcer på ansigtet. Lad det virke i 10 minutter, så indholdet skummer helt op og fjern derefter masken. Skyl efter med varmt vand og fortset behandlingen med din favorit Barber PRO ansigtsmaske.

Indeholder 1 stk sachets (1 applikationer) 20ml
Uden parabener. Dermatologisk testet. Klar til brug.
Fås som enkeltstk eller i en display med 12 stk.

Varenr BAPR05
---