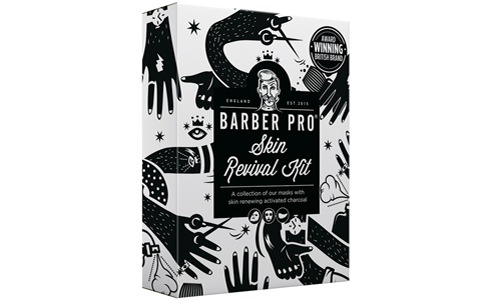 Sæt med 4 forskellige ansigtsmasker til mænd fra BARBER PRO
BARBER PRO Skin Revival Kit er en komplet sæt med ansigtsmasker, hvor du får FOAMING MASK, GENTLEMEN'S SHEET MASK, UNDER EYE MASK og FACE PUTTY PEEL-OFF MASK. Sættet indeholder således alt du behøver for et friskt look, med opstrammet, rengjort og elastisk hud. Aktiveret Charcoal renser ansigtet, mens collagen lysner og rehydrerer huden.
Vejledning:
Påfør FOAMING MASK og lad den virke på ansigtet i 10 minutteer til den er fuldt skummet op
Placer de 2 UNDER EYE MASKS under hvert øje og sikre dig, at den smallesteende af masken sidder tættest på næsen
Når UNDER EYE MASKS er på plads, så påfør et tyndt lag FACE PUTTY PEEL-OFF MASK rundt T-zone deln af ansigtet og rundtde to UNDER EYE MASKS. Vent 15-20 minutter til masken er helt tør og elastisk, hvorefter masken fjernes nedefra op op starende ved kindet. Fjern derefter de to UNDER EYE MASKS.
Når ansigtet er rent og klart til fortsættelse, påfør GENTLEMEN'S SHEET MASK i 15 minutter. Denne maske skal ikke skylles ud
Indeholder gaveæske 150gr med følgende:
1 x GENTLEMEN'S SHEET MASK
1 x UNDER EYE MASK
1 x FOAMING MASK
1 x FACE PUTTY PEEL-OFF MASK
Alle produkter uden parabener. Dermatologisk testet.
Fås som enkeltstk eller i en display med 6 stk.

Varenr BAPR09
---